Champagne Blanc de Noirs
The lightness of its youth reveals the intensity of the fruit.
Full-bodied and balanced, this wine will seduce you with the intense fruitiness on the palate, long-lasting and delicate.
A Champagne of character with a lively, intense nose, playing on the aromas of summer fruits: pear, quince, fruit preserves.
This fruitiness is long on the palate, a sign of the elegance and complexity of this cuvée.
The Blanc de Noirs will reveal all its aromas with a fillet of doe or a guinea fowl with mushrooms.
Wines for Dishes
Whether classical or original,
we offer you
Dish and Wine pairings
that will distil the aromas
of our Champagnes.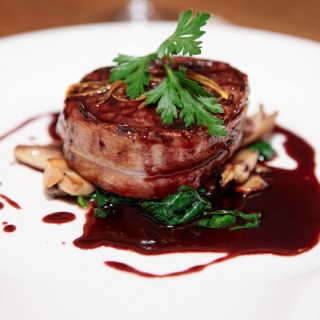 Fillet of doe with Blanc de Noirs
The perfect mushroomy marriage
Ingredients
1 kg of tied doe fillet
2 shallots
2 carrots
50 cl of Cahors type wine
5 cl of rum for flambé
Olive oil
Butter
Parsley
Rosemary, pepper and salt
Method
Sear the meat with the butter and oil
Replace the meat with sliced shallots
and allow them to brown lightly
Add the flambé rum
Put back the meat with the sliced
carrots
Salt and pepper while adding red wine
and rosemary
Cook on low heat for 25 minutes
Serve very hot with a little parsley
To enjoy with a bottle of Champagne
Blanc de Noirs Bernard REMY
Mixology
Mixology is the subtle art of creating cocktails. And naturally, champagne is an essential ingredient in devising ever more refined drinks. Here we offer you a few cocktails that will reveal all the diversity of aromas in our Champagnes.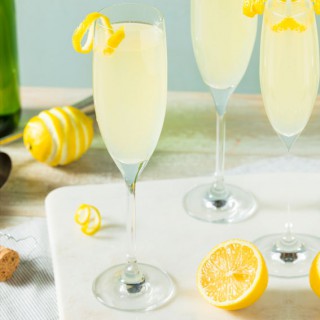 Champagne soup with Blanc de Noirs
The genuine Champagne soup
Ingredients for 1 litre
Champagne Blanc de Noirs Bernard REMY (75cl)
15 cl of Cointreau
15 cl of lemon juice
1 Lemon
15 g of sugar
Method
Blend all the ingredients
Put in bottle in a cool place
for 24 h with a tight stopper
Cut the lemon into thin slices
Place in a very cold bowl
with the lemons
Serve with a small ladle
Find out how to consume our Champagne
See our tips