Champagne Blanc de Blancs
A marriage made in heaven - Chardonnay and Chalk have lived harmoniously together for many a year.
From this alliance, citrus aromas come to life in the mouth and lie subtly on a pallet of white flowers.
The brilliant, deep colour is adorned with multiple green reflections typical of "Pure Chardonnay".
The nose is lively, fresh and intense. Full and smooth on the palate, with citrus aromas dominating.
It reaches fullness in a creamy finale with slight buttery hints.
Blanc de Blancs can well accompany a fillet of veal or sole meunière.
Champagne
Blanc de Blancs
Wines for Dishes
Whether classical or original,
we offer you
Dish and Wine pairings
that will distil the aromas
of our Champagnes.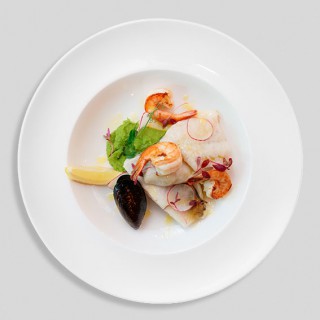 Trio of Fish with Blanc de Blancs
The perfect union of fish and a 100% Chardonnay Champagne
Ingredients for 4 servings
4 fillets of white fish (Sole, halibut, sea bass, etc.)
Half-salted butter
Tarragon and parsley
Fleur de sel and pepper
Method
Melt the butter over low heat
with the tarragon and parsley
Place the butter so obtained in a pan
Heat the butter until it browns
Quickly coat the fillets both sides
and lower the heat
Stop heating at a flesh temperature of around 50°C
Cover the fillet with a spoonful of the butter used for cooking
A small pinch of salt and pepper
A few shrimps and shellfish will add
a ravishing touch to your dish!
To enjoy with a bottle of Champagne
Blanc de Blancs Bernard REMY
Mixology
Mixology is the subtle art of creating cocktails. And naturally, champagne is an essential ingredient in devising ever more refined drinks. Here we offer you a few cocktails that will reveal all the diversity of aromas in our Champagnes.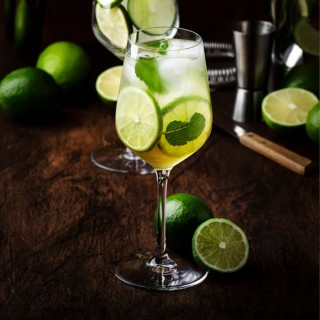 Blanc de Blancs and Lime
Ingredients
Champagne Blanc de Blancs Bernard REMY
White rum
Cane sugar
Lime
Fresh mint
Method
One teaspoon of cane sugar
A few mint leaves
3 slices of lime
Top with well chilled Champagne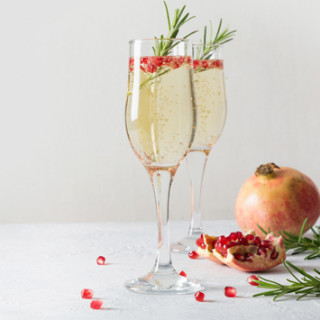 Pomegranate Blanc de Blancs Champagne
2 cl of vodka
1 cl of Grand Marnier
4 cl fresh pomegranate juice
8 cl of Champagne Blanc de Blancs Bernard REMY
Find out how to consume our Champagne
See our tips