Champagne Prestige
When rooted in magic and admiration, prestigious grapes are born.
We sense its subtle complexity with the fruit preserve transporting us in a round and velvety dance.
Like all mature champagnes, Prestige is dressed in deep gold.
A complex and balanced cuvée, this champagne develops hints of toasty and brioche-like savours.
Full and smooth in the mouth, with the aromas of preserved fruits dominating.
Serve with a crispy apple crumble.
Wines for Dishes
Whether classical or original,
we offer you
Dish and Wine pairings
that will distil the aromas
of our Champagnes.


Prestige and Cheese
The art of marrying cheese and Champagne
Ingredients
4 cheeses of character, but not too strong
2 soft and 2 hard cheeses, for example:
Saint Nectaire, Reblochon, Comté 12 months and Beaufort.
A few fresh figs
Seasonal grapes
Autumn fruit
Multi-grain bread
Method
Take out the cheeses to ambient
temperature 2 hours before eating
Cut some thin slices of bread
Cut the figs into quarters
Have the milder cheeses
before the stronger
To enjoy with a bottle of Champagne
Prestige Bernard REMY
Mixology
Mixology is the subtle art of creating cocktails. And naturally, champagne is an essential ingredient in devising ever more refined drinks. Here we offer you a few cocktails that will reveal all the diversity of aromas in our Champagnes.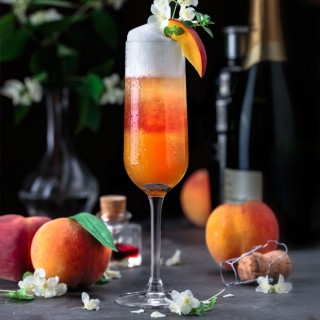 Prestige Bellini
Ingredients
Champagne Prestige Bernard REMY
2 white peaches
Peach cream liqueur
Method
Chill the glasses
Peel and blend the peach
Place the pulp at the bottom of the glass
Add 1 cl of peach cream liqueur
Carefully pour the well chilled Champagne.
Find out how to consume our Champagne
See our tips